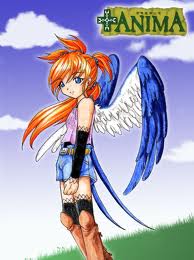 Lyra
is a swallow bird
+Anima
who is strongly jealous of
Cooro
and his wings. Lyra lived with Cooro when he was young, both of them residing at the orphanage church. She believed that the nuns and patrons treated Cooro better because of his wings, and longed to have wings of her own. She had Fly, an +Anima researcher, implant a swallow Anima into her body. However, she later lost the Anima during the race, and was saved from falling by Cooro. She is shown to have a limited but adept combat ability as evidenced when she outmanuevered a rival competitor who was planning to kill her, and she managed to slam him into a boulder by darting to the left just before hitting the rock herself. Lyra was last seen in Volume 10, and was first seen in Volume 9.
Ad blocker interference detected!
Wikia is a free-to-use site that makes money from advertising. We have a modified experience for viewers using ad blockers

Wikia is not accessible if you've made further modifications. Remove the custom ad blocker rule(s) and the page will load as expected.